Welcome all you Islanders!
We have a super fun itinerary for you today... one of my favorites!!!
Created by Alison here it is:
1. Spooky
2. Teal
3. Time (use a senti with the word "time", have a clock somewhere, etc)
4. Inked Edges
5. Find a Sketch Challenge and use it (don't forget to link up!)
6. Glitter
7. Animal(s)
8. Use a rubber! (stamp that is!)
9. Silver
10. Use a non-craft item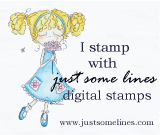 I have chosen to use the following from the itinerary; 1, 3, 6, and 8!
I used Getting Ready for Halloween JSLDIG258 from Just Some Lines!
I hope you like today's creation and please don't forget to hop on over to the DICC blog to check out all the wonderful projects the gals have come up with!